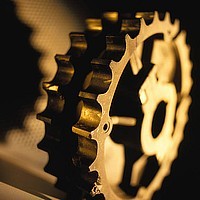 THE GEAR BOX WILL BE TEMPORARILY CLOSED STARTING ON
FRIDAY MAY 31, 2013 - FRIDAY AUGUST 2, 2013.
THIS TEMPORARY CLOSING WILL ALLOW US TO BETTER SERVE YOU IN THE FUTURE.
WE APOLOGIZE FOR ANY INCONVENIENCE THIS MAY CAUSE DURING THIS TIME.
THANK YOU FOR YOUR UNDERSTANDING, THE GEAR BOX INC.
The Gear Box is your one stop shop for all manual and automatic transmission and rear end parts. We have parts for Borg Warner/Tremec T56 transmissions, T5 world class and non world class, T45, T10, Super T10, Muncie M20, M21, M22, 3550, TKO, 3650 and more!
We carry a complete line of the best quality parts available, including Tremec / Borg Warner, Richmond & Spicer.
We have over 30 years experience in the transmission business and have rebuilt 1000's of transmissions. We specialize in all types of transmissions.
If you're looking for parts we provide the best quality service and parts. If you don't see what you need on this site, please feel free to email us or call 734-793-0727.
We are also sellers on Ebay. Check out our reputation and buy with confidence!